Bathysiphon microrhaphidus Samuel, 1977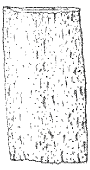 Fig. 1. Holotype of Bathysiphon microrhaphidus from Samuel (1977)



ORIGINAL DESIGNATION: Bathysiphon microrhaphidus Samuel, 1977

TYPE REFERENCE: Samuel, O. 1977. Agglutinated foraminifers from Paleogene flysch formations in West Carpathians of Slovakia. Zapadne Karpaty, Seria paleontologia, 2-3, p. 19, pl. 11, figs. 3-6; pl. 12, figs. 1-4; textfig. 1a.

TYPE SPECIMEN: Housed in the micropaleontological collections of the Dionyz Stúr Institute of Geology in Bratislava.

TYPE LEVEL: Upper Eocene, Inner Carpathians of Slovakia

TYPE LOCALITY: Hrabkov, eastern Slovakia

DIAGNOSTIC FEATURES: Test tubular, laterally compressed. The wall consists of sponge spicules arranged subparallel to the direction of growth in a matrix of fine quartz particles. Inner surface is smooth, but the outer surface appears "grooved" because of the presence of the sponge spicules. Cement organic, often well-silicified.

SIZE: Width of type specimens 0.28 to 0.40 mm.

SYNONYMS: None verified.

OBSERVED OCCURRENCES: Bathysiphon microrhaphidus was originally described by Samuel (1977) from the Upper Eocene of the Inner Carpathians in Slovakia. We have subsequently found this species in the Paleocene of the Lizard Springs Formation of Trinidad (Kaminski et al. 1988). It also occurs in the Paleocene in the Central North Sea, the western Barents Sea, and in the West of Shetlands province.

KNOWN STRATIGRAPHIC RANGE: Paleocene - Eocene

BATHYMETRY: Bathyal to abyssal

REMARKS: This species is easily recognised by the spicular nature of its wall. It differs from Nothia robusta (Grzybowski), a species that also agglutinates sponge spicules, in its smaller dimensions and roughened and grooved outer surface.

ILLUSTRATIONS: Plate 1 - Bathysiphon microrhaphidus Samuel
Figs. 1a-2. Late Eocene, Inner Carpathian flysch, Hrabkov, eastern Slovakia, paratypes. Fig. 3. Paleocene, Lizard Springs Formation of Trinidad.