f. Relationship of DWAF assemblages to water depth (Paleobathymetry)
Palaeobathymetry of microfossil assemblages is an important parameter in the tectonic subsidence analysis and deposition history of well sites, and is widely applied in petroleum basins to strengthen models of reservoir and source rock sedimentation and distribution. Estimates of changes in palaeobathymetry also detail the amount of sediment underfill in basins, and assist with palaeogeographic reconstructions. Sudden changes in palaeobathymetry due to accelerated subsidence or uplift may explain why assemblages disappear (like many agglutinated taxa during basin shallowing), and often modify the stratigraphic ranges of many taxa.
An overestimation of palaeo waterdepth may induce artificial uplifts through time in well site subsidence models, whereas its underestimation artificially reduces subsidence rates. Ignorance of palaeobathymetric trends will generally lead to an underestimation of basin subsidence, and incorrectly assigned palaeoslopes.
Ignorance of palaeobathymetric trends in basin analysis is not uncommon in the geological literature. Reasons may be many, but not in the least because palaeobathymetry is a bit of a fearful subject. The science, or should we say 'the art of the science', tries to extract rigorous geometric information, i.e. the height of the palaeo watercolumn at discrete time intervals, from organisms that do not per se sense depth. The presently most widely employed and probably most detailed palaeobathymetric techniques are of a micropalaeontological nature, particularly involving benthic foraminifera in Jurassic, Cretaceous and Cenozoic strata. Although there is a widespread consensus among micropalaeontologists that the benthic taxa are roughly arranged along a depth-, and down to basin gradient, there are no easy rules and several constraints that hamper accurate predictions (van der Zwaan et al., 1999), including:
There is limited understanding of the fundamental factors that ultimately control the bathymetric distribution of bottom dwelling taxa, except for shallow marine taxa that act as benefiting host to symbionts with sunlight dependent chloroplasts.
Bathymetric ranges species may differ from region to region, apparently depending on poorly defined and poorly understood factors, particularly in active delta settings, where food supply, substrate conditions, and water turbidity are abnormal.
It is generally agreed that food availability (including bacteria), the redox gradient, competition for food and space, and a host of physical, chemical and environmental setting factors together are responsible for determining the upper depth limits and assemblage composition of agglutinated assemblages. But a thorough theoretical and quantitative basis for palaeoecology of foraminifera is still in its early stage. It is clear that water depth and export production (including seasonality of export production) both determining the amount of organic carbon arriving at the sea floor. Recent studies have quantified the relationship between sea floor carbon flux and modern foraminiferal facies in the eastern Atlantic and Mediterranean (Altenbach et al. 1999; De Rijk et al., 2000). A general pattern is appearing which links both upper depth limits of individual species and assemblage composition to food availability. However, sea floor oxygenation and disturbance by bottom currents can also affect assemblage composition. That is where empirical models take over that create practical rules of thumb in direct interplay with the palaeoceanographic, geologic and palaeogeographic setting of geological basins. With respect to agglutinated foraminifera three observations stand out:
A. The group as a whole increases in diversity and abundance with depth along a continental margin (Pflum & Frerichs, 1976; Scott et al., 1983; Murray & Alve, 1994; Hess, 1998; De Rijk et al., 1999). This might reflect tolerance to, or preference for lower carbon flux and/or changes in oxygenation under low sedimentation rates of fine grained sediments (sensu Van der Zwaan et al., 1999). For example, the upper depth limit and relative abundance of Glomospira charoides in the eastern Mediterranean is closely linked to the presence of oligotrophic conditions. Along a west to east transect in the Mediterranean (reflecting a productivity gradient), the upper depth limit of the species shallows and its abundance increases (De Rijk et al., 1999, 2000). It only becomes dominant under the most oligotrophic conditions in the Levantine Basin in the eastern Mediterranean. It also blooms at the base of the eastern Mediterranean sapropels, which are linked to oligotrophic conditions caused by the onset of stable density stratification during times of increased outflow from the Black Sea (Aksu et al., 1999).
B. Differences in composition of modern agglutinated assemblages on continental slopes are not well understood, as commented on by Schafer et al. (1983) as follows: 'Inspection of the parameters that define individual factors controlling generic distribution on the (Newfoundland) slope indicates that the response of the genera is complex'. Continental slopes experience strong gradients in organic flux, but are also the sites that are influenced by oxygen minimum zones and deep boundary currents. Both factors can affect the composition of the agglutinated assemblages. A case in point is the occurrence of Psammosphaera fusca. This species dominates under seasonally dysoxic conditions off California (Kaminski et al. 1995), but also characterises a bathymetrically-restricted assemblage in the South Atlantic and Scotian Sea which follows the pathway of the deep boundary undercurrent bringing Antarctic Bottom Water northwards (Harloff & Mackensen, 1997). Both examples underline the importance of physical disturbance in the deep sea environment.
C. Enhanced dissolution of carbonate, as in colder water (higher latitude and deep sea) basins, effectively creates residual assemblages devoid of calcareous taxa. The same process may take place along continental slopes where mid-water oxygen minima that intersect the seafloor prevent effective oxidation of organic matter, and enhance bottom water corrosion. The question is whether these settings enhance the niche of agglutinated foraminifera by eliminating competition by calcareous species, or selectively remove calcareous benthics during burial. The fact that some agglutinated taxa are able to invade and settle in niches where carbonate dissolution takes place does not mean that these taxa are restricted to that facies. On the contrary, the same taxa may also live alongside calcareous benthics in more carbonate-friendly niches.
We will return to the dissolution scenario, following a discussion of an empirical approach to palaeobathymetry, involving agglutinated foraminiferal assemblages in two petroleum basins, i.e., the Cenozoic sedimentary wedges off northeast Canada, and in the North Sea.
Paleogene sediments of the Central North Sea and the Canadian Atlantic margin abound in predominantly agglutinated benthic foraminiferal assemblages. The fauna as a whole, probably is made up of over 150 species and 75 or more genera from all major (approximately 9) superfamilies (Fig. 7), a majority using organic cement to create a test from sand grains. Over the years, problems have arisen with interpretation of palaeo waterdepth based on the assemblages that make up this fauna, largely from insufficient insight into the modern niche the taxa prefer, and lack of detailed observations along basinward transects in siliciclastic basins.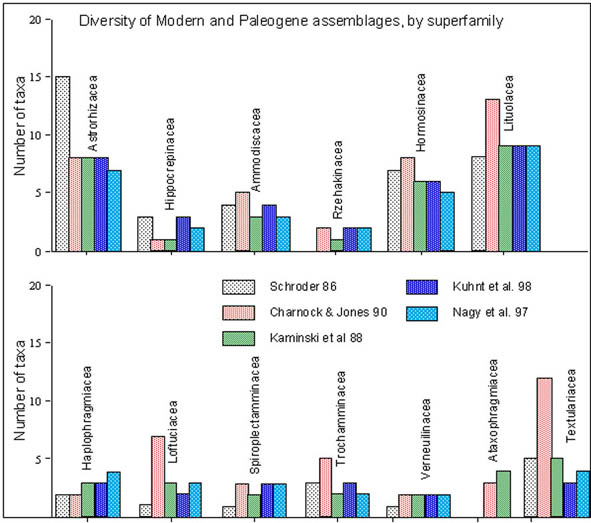 Figure 7. Number of genera of agglutinated foraminifera organised per family in the Recent North Atlantic slope and abyssal plains (Schröder, 1986), in the Paleogene of the North Sea (Charnock & Jones, 1990), the Paleocene of Trinidad (Kaminski et al. 1988), the Paleocene of West Africa (Kuhnt et al. 1998) and the Paleocene of the western Barents Sea (Nagy et al. 1997).
As pointed out in a number of studies (Gradstein & Berggren, 1981; Miller et al., 1982; Scott et al., 1983; Schröder, 1986), the diverse and abundant agglutinated species found in wells that sampled the Paleogene sediments of the North Sea, offshore Norway, and offshore Eastern Canada, at present occur mostly on the modern continental slope, with their niches ranging down onto the abyssal plain.
The modern fauna, which generally includes more common calcareous than agglutinated benthic taxa, favours a fine-grained siliciclastic, low energy substratum, which is why its fossil counterparts predominate in mudstone basins where sediments may also be generally enriched in organic matter, and petroleum prone. The modern agglutinated fauna is not strictly bathymetrically controlled. On the other hand, the so-called flysch-type fauna, which was named after assemblages that are typical of some of the classical "flysch"" deposits in the Carpathians and Alps (Gradstein & Berggren, 1981), from detailed comparisons with the modern slope fauna (Scott et al., 1983; Schafer et al., 1983; Schröder, 1986) has an upper depth limit of around 500 m. Some of the individual genera may be found on the shelf, or even in marshes (e.g., some species of Trochammina or Ammobaculites), although on a species level there is limited overlap between modern shelf and slope agglutinated faunas (Fig. 8).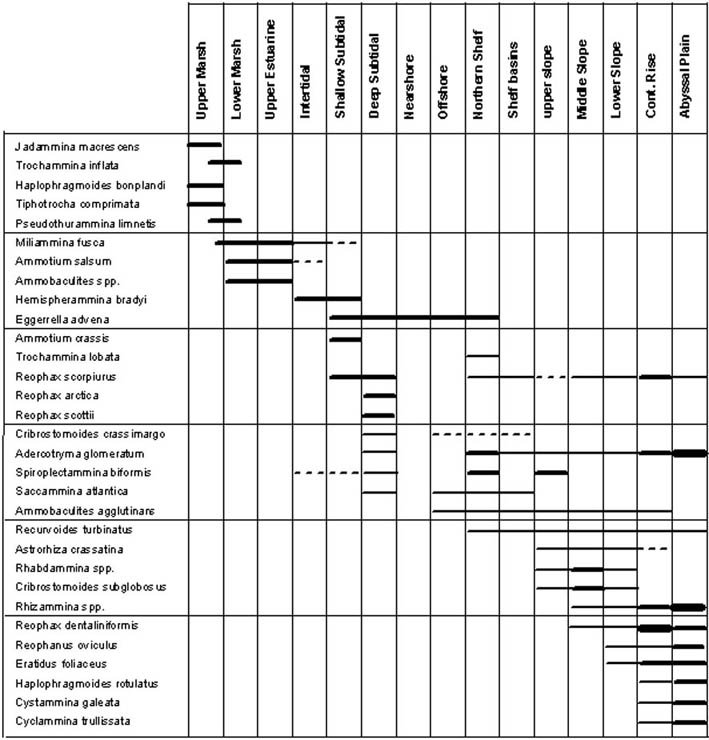 Figure 8. Distribution of selected species of agglutinated foraminifera in the Recent northwest Atlantic marshes, estuaries, shelf, slope and abyssal plain. The total number of agglutinated taxa increases dramatically from marsh to slope (modified after Scott et al., 1983, and Schröder, 1986).
In our concept of "The Recent as a Key to the Past", augmented with observations along palaeoslope transects (see below), the agglutinated benthic assemblages in Paleogene strata of North Sea and Canadian offshore wells are typical for middle to upper slope conditions. From Recent observations, taxa such as Cystammina, Buzasina, and Pseudobolivina are more typical of middle to lower slope conditions, which agrees with their absence in more updip, basin margin wells studied.
In order to strengthen palaeobathymetric interpretations, Gradstein et al. (1994) analysed faunal trends along palaeoslope transects, using well data and long seismic lines in the subsurface of both the Central North Sea, and northern Grand Banks. For the Canadian Atlantic margin, we also took into account seismic and well transect data on the Labrador Shelf. The objective was to assess lateral faunal changes along shelf to basin transects, and create palaeobathymetric models for these petroleum basins that could be used in burial and subsidence analysis. Palaeoslope studies estimated the deepest part of the transects to be between 750 and 1000 m water depth.
Spatial and temporal trends observed in the agglutinated benthic fauna along the transects may be summarised as follows: Well and seismic data indicate rapid mid Paleocene deepening of the North Sea basin, following deposition of the Danian chalk. As a result of this deepening, that resulted in fine grained mudstones and gravity flow sand wedges, a flysch-type fauna invaded the basin. After the Paleocene, progressive shallowing and delta top facies along the basin margins did not provide a suitable environment for the agglutinated fauna. More centrally in the basin, the agglutinated benthic fauna (with associated radiolarian blooms), becomes much more diversified, and also extends into younger strata. The latter reflects the fact that sufficiently deep marine (bathyal) conditions with fine grained substrate were maintained towards the centre of the basin into Miocene time. During the Miocene rapid shallowing in the central North Sea led to displacement of the agglutinated associations with a neritic, calcareous benthic fauna.
Among the agglutinated benthic taxa, cyclamminids, rzehakinids, cystamminids, Recurvoides and Karrerulina are confined to the basinal wells, with Bathysiphon, Haplophragmoides, Cribrostomoides, Ammodiscus, Glomospira and Saccammina being more opportunistic and extending to the margin. Pseudobolivina, Rzehakina, and (abundant) radiolarians, like "Cenosphaera", are also confined to the basinal mudstones. In general, the number of taxa of the family Lituolidae increases at the expense of the Ammodiscidae. Comparable trends were observed in the Cenozoic siliciclastic wedges in the eastern Canadian offshore.
The above observations are in agreement with those of Jones (1988), who analysed agglutinated faunal changes along a Viking Graben palaeodepth transect, parallel to ours, but slightly to the north in the Frigg petroleum field area. Jones (1988) estimated the so-called basin floor assemblage to be 1000-1500 m deep, with our estimate favouring the shallow end of this bracket. There is likely to be an uncertainty in the palaeo waterdepth estimate that may exceed 25% of the depth estimate on the middle to lower slope.
In order to summarise the agglutinated faunal trends along the Grand Banks and the North Sea transects from a shallow, proximal to deeper, distal facies, we have listed observed taxonomic and diversity trends in figure 9. Clearly, both abundance and diversity in taxa dramatically increase down slope. There are fewer than 10 genera and 15 species up slope and routinely 15-30 genera and 30-60 species or more down slope. Bathysiphon, Glomospira, Saccammina, Ammodiscus, Haplophragmoides, Cribrostomoides and Trochammina are more opportunistic and widespread. On the Labrador Margin Trochammina, Recurvoides, Reticulophragmium and Budashevaella are more abundant at shelf localities, while Rhabdammina, Cyclammina, Kalamopsis, Lituotuba, Hormosina, Ammosphaeroidina, Cystammina, Recurvoides, Karrerulina, Rzehakina, Pseudobolivina and Labrospira together are more typical for middle or lower slope conditions. At DSDP Site 112 in the Labrador Sea, Paleocene abyssal assemblages contain finely agglutinated tubes, Glomospira irregularis, small ammodiscids, Cystammina, Spiroplectammina and Subreophax. In the Eocene, faunal diversity is noticeably higher at ODP Site 647 than in exploration wells on the Labrador margin. Although many species are isobathyal, there are important differences in relative abundance (Fig. 9). The abyssal assemblage consists largely of tubular forms, with high proportions of Glomospira and Spiroplectammina. The latter forms have a diachronous occurrence in the Labrador Sea, disappearing in the Lower Eocene along the margin, but extending to the Oligocene at the abyssal location. Abyssal taxa found only at Site 647 include the species Ammodiscus nagyi, Duquepsammina cubensis, and minute specimens of Hyperammina. As indicated earlier, there appears to be a local water depth difference of 500-1000 m basinward in the North Sea, which provides a (minimum) estimate of water depth difference between faunal end members.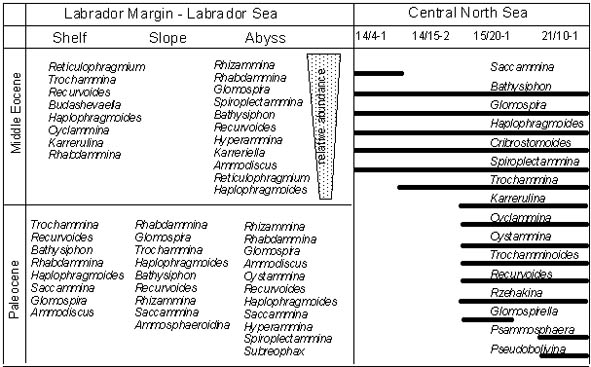 Figure 9. Bathymetric distribution of selected, coarse agglutinated benthic foraminiferal taxa in Paleogene fine grained, deep-water sediments, North Sea/offshore Norway and Canadian Atlantic margin (after Kaminski, 1988; Gradstein et al., 1994). Taxa are ranked in order of decreasing relative abundance.
The agglutinated Foraminifera from neritic to bathyal facies in the Paleogene of Spitsbergen and the Barents Sea were studied by Nagy et al. (2000). High latitude Paleogene foraminiferal assemblages were analysed from two onshore sections, located in the Central Basin of Spitsbergen, and from an exploratory well drilled in the Tromsø Basin of the southwestern Barents Sea. A quantitative comparison of the assemblages revealed consistent faunal trends that can be related to palaeobathymetry. The inner and middle neritic assemblages of the Central Basin are of a restricted marine nature as typified by low diversities and virtually entirely agglutinated assemblages. The outer neritic to middle bathyal assemblages of the Tromsø Basin are of a "flysch type" cosmopolitan nature, and are unaffected by high latitude endemism typical of shallower assemblages. These deeper water assemblages reveal close similarities to Paleogene faunas of the North Sea and Tethyan localities. The following foraminiferal biofacies were recognised:
An inner neritic biofacies is found in the Central Basin of Spitsbergen, where it is developed in the Kolthoffberget Member of the Firkanten Formation. The member consists of interbedded shales, siltstones and sandstones deposited in a transitional delta front - prodelta environment. The foraminiferal assemblages are entirely agglutinated, show extremely low species diversities and strong dominance of Reticulophragmium arcticum followed by Labrospira aff. turbida.
A middle neritic biofacies is found in the Basilika Formation (Central Basin) which was deposited under delta-influenced shelf conditions. The foraminiferal assemblages show an increased species diversity, and consist mainly of agglutinated taxa with a strongly subordinate calcareous component. The two most abundant species are R. arcticum and L. aff. turbida. Species of Verneuilinoides and Trochammina occur in significant numbers while tubular taxa are rare.
An outer neritic to upper bathyal biofacies is present in the upper Torsk Formation of the Tromsø Basin. It contains entirely agglutinated assemblages with comparatively high diversities. The dominant species are Recurvoides aff. turbinatus and Budashevaella multicamerata, while Reticulophragmium amplectens is typical and common in these strata. Tubular forms referred to Rhizammina occur locally in significant quantities. The diversity and composition of the assemblages suggest an outer neritic to upper bathyal environment.
An upper-middle bathyal biofacies is recognised in the lower part of the Torsk Formation (Tromsø Basin). The assemblages reveal closest similarities to deep water "flysch type" faunas of the North Sea and other boreal areas. Dominant species include: Spiroplectammina spectabilis, Haplophragmoides walteri, Recurvoides sp. 1, Ammosphaeroidina pseudopauciloculata and Saccammina grzybowskii.
The distribution trends of general faunal parameters and major morphological groupings (Fig. 10) appear to be useful for distinguishing the various foraminiferal biofacies. A number of general faunal trends are apparent in the data from Spitsbergen and the Barents Sea:
Species diversity increases with water depth.
Psammosphaerids are the most common simple agglutinants in neritic facies.
Tubular taxa are rare in neritic settings but common in bathyal facies.
Alveolar taxa are most abundant in the shallow neritic facies, and show strongly reduced frequency in deeper environments.
Streptospiral multichambered taxa are not observed in the inner and middle neritic facies but are particularly abundant in outer neritic-upper bathyal settings.
Elongated serial taxa are most common in the upper to middle bathyal assemblages.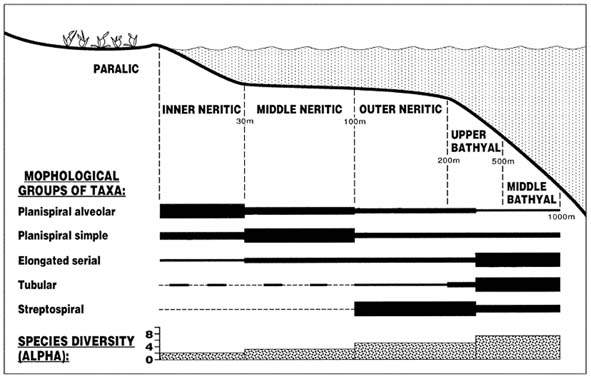 Figure 10. A summary of the palaeobathymetric distribution of foraminiferal groups and species diversity for the Paleogene of the Central Basin of Spitsbergen and the Tromsø Basin in the southwestern Barents Sea (from Nagy et al., 2000).
The palaeobathymetrical model for the truly abyssal Paleogene assemblages in the North Atlantic is based on the detailed work of Kuhnt & Urquhart (2001) from the depth transect drilled during ODP Leg 173 on the southern Iberia abyssal plain and Iberian continental rise. Although in the northern Atlantic diversity increases basenward as seen in the example above, the work on the sub-CCD assemblages from Iberia demonstrate that species diversity eventually reaches a maximum, probably somewhere on the continental rise. Beyond a certain depth diversity decreases again onto the abyssal plain. This feature is clearly evident in the Paleocene record at Sites 1067, 1069, and 1070, where diversity falls from 36 taxa at the proximal location (Site 1067) to only 15 taxa at the most distal location (Site 1070). The composition of the most abundant taxa along the Iberian transect is given in figure 11.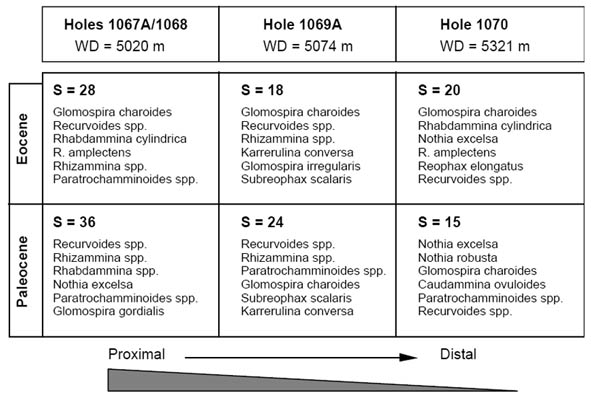 Figure 11. Taxonomic composition of the most common species along the Iberian Margin – Abyssal Plain transect, ODP Leg 173. Taxa are ranked in order of decreasing dominance, with the most abundant taxon at the top. S = total number of species. Data are from Kuhnt & Urquhart (2001).
In spite of the fact that all sites are currently below 5 km depth and the difference in palaeodepth along this transect is small, a faunal change is readily apparent. The ratio of Glomospira to Recurvoides increases with depth, and diversity decreases in both the Paleocene and Eocene assemblages. The small differences in depth seen in this profile were probably not enough to effect such a faunal change, and to what extent the foraminiferal fauna of the Iberian Margin responded to other environmental factors such as the trophic continuum, bottom currents, etc. remains a matter for speculation.
At this stage it is useful to return to the carbonate dissolution scenario, and ask the question if such situations enhance the niche of "flysch-type", deep water agglutinated foraminifera. Turning the question around, one could start with asking if the rates of carbonate supply, carbonate precipitation and carbonate dissolution control the distribution and preservation of calcareous benthic (and planktonic) foraminifera. Asked this way, the answer is of course yes. Limited carbonate supply, and carbonate corrosive environments hamper production, preservation and burial of calcareous tests, as in deeper water, higher latitudes, restricted basins, and along many continental slopes with high organic production. This fact is in line with the observation that a few strongly etched or largely dissolved calcareous foraminiferal tests are found in Paleogene shales of the North Sea and offshore Canada, which are rich in deep water agglutinated taxa.
However, this does not answer the question if the demise of one group, i.e., calcareous benthics, enhances flourishing of the other, i.e., agglutinating taxa with organic cement. The jury is still out on this question, but the observations of a rich, flysch-type fauna together with a diversified deep water calcareous fauna living on the upper, middle and lower continental slope of the northern Grand Banks (Schafer et al., 1983) suggests that the question is more complex.
A decade after the pioneering work of Schafer et al. (1983), Murray & Alve (1994) showed that diverse Atlantic agglutinated assemblages are living amidst the calcareous foraminiferal fauna on the slope and abyssal plain of the NW European slope facing the Atlantic. The agglutinated component reveals itself well when the calcareous component is gently dissolved in acid. The acid treatment also led to the destruction of agglutinated taxa with a calcareous cement such as Textularia sagittula, Eggerella bradyi, Sigmoilopsis schlumbergeri, Karrerulina bradyi, and Siphotextularia spp. Extremely delicate agglutinated forms like Lagenammina, Nodellum and some of the tubes might not survive fossilisation, and also contribute to taxonomic discrepancies between Recent and fossil deep water foraminiferal assemblages. In likeness to the palaeoecological studies quoted earlier, the authors conclude that post-mortem concentration of agglutinated taxa through the partial or total loss of calcareous taxa by dissolution, is a likely origin of some of the agglutinated assemblages in the fossil record.
We concur with Murray & Alve that process of early diagenetic dissolution can result in residual agglutinated assemblages. This process certainly takes place near the lysocline in the open ocean. However, we believe this is not the only process involved. Importantly, Murray & Alve studied samples from the eastern North Atlantic shelves, a carbonate-rich environment. We ask the question does the modern Atlantic shelf/slope constitute a good modern analogue for the flysch-type assemblages of the Paleogene ocean? Does a reasonable modern analogue for these faunas exist?


A possible modern analogue
The modern South China Sea shares many features in common with the Paleogene Alpine flysch basins. The sea is a deep (>4 km) silled basin with limited deep water exchange with the Pacific Ocean. It is surrounded by tectonically active margins that supply terrigenous detrital material (and volcanic ash) in the form of turbidites. The Philippine side of the South China Sea has virtually no shelf, and ample organic material is swept into the deep basin by downslope movements. The dissolved oxygen content below the thermocline is lower that in the open ocean (around 2 ml/l), while the high nutrient content of deep water results in high levels of productivity during monsoonal upwelling events. The organic carbon content of surficial sediments exceeds 1% at many stations to a depth of 2,000 m, while at deeper stations the TOC is between 0.5 and 0.7%. These ecological factors result in a relatively shallow CCD in the South China Sea, and noncalcareous sediments with rich agglutinated foraminiferal faunas can be cored within sight of Mt. Pinatubo volcano. The distribution of modern agglutinated foraminifera in this basin was documented by Hess (1998).
Agglutinated foraminifera comprise over 60% of the living fauna below a water depth of ca. 500m, and this percentage rises steadily to values of 96 - 98 % at a depth of ca. 3,800 m (Fig. 12). The benthic foraminiferal diversity is high, with 60 to 80 species/100 cm2. In this silled basin, most species of agglutinated foraminifera have surprisingly wide bathymetric ranges, occurring from ca. 600 to ca. 4300m depth. However, the faunal density and relative proportions of certain species do display depth-related trends. The upper to middle bathyal assemblages are dominated by tubular forms (Rhizammina and Saccorhiza) trochamminids, and large specimens of Reophax. A faunal break is seen at ca. 2000 m, below which depth abundance and diversity begins to decline. Interestingly, in the data set of Hess (1998), there are no clear depth-related trends among the agglutinated foraminiferal morphogroups. As expected, Morphogroup A (tubular forms) displays a weak inverse correlation with Morphogroup C (deep infauna), but none of the groups shows any strong bathymetrical preference. Nevertheless, several species, though widely distributed, do display higher relative proportions at greater depths, including Saccammina sphaerica, Subreophax adunca, Ammobaculites agglutinans, Haplophragmoides rotulatus, Eratidus foliaceus, Recurvoides contortus, and Karrerulina apicularis. The wide bathymetrical ranges of DWAF in the South China Sea probably result form the lack of deep connections with the Pacific Ocean resulting in a homogeneous deep water mass. Additionally some of the truly abyssal Pacific taxa are likely absent.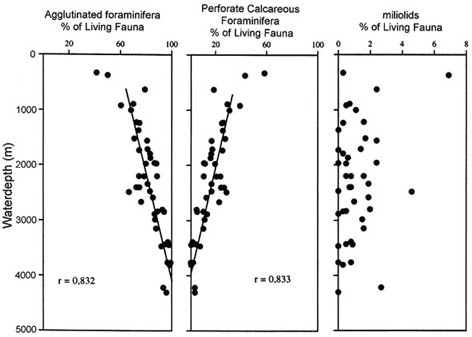 Figure 12. Percentages of Rose Bengal stained agglutinated, calcareous benthic, and miliolid foraminifera in boxcore samples collected in the South China Sea (after Hess, 1998).
In conclusion, we may state that flysch-type agglutinated assemblages comprised of taxa with organic cement survive and flourish on low-energy, fine-grained and organic-rich terrigenous substrates that formed under stratified water masses, with a moderate to high Corg and lower CaCO3 productivity. Such "favourable" ecological conditions frequently occur in small, silled basins (such as the South China Sea) with temporal and spatial restriction of oxygen due to the development of oxygen minimum zones in mid water settings. Excess carbon over carbonate production quickly leads to corrosion of foraminiferal tests made of carbonate. Hence the importance of agglutinated foraminifera in the stratigraphy and palaeobathymetry of petroleum basins. Such favourable sedimentary conditions were present during the tectonically active stage of basin formation in the North Atlantic and western Tethyan "flysch" basins. The diversity of species and the proportions of the different morphogroups in DWAF assemblages appears to be a function of the trophic continuum, and in particular the organic carbon flux (Preece et al., 1999). In this regard, the presence of gentle deep-sea currents probably also plays a positive role, especially with regards to the suspension feeding tubular morphogroup. Species diversity is negatively correlated with organic carbon flux, with larger numbers of agglutinated species occurring towards the oligotrophic end of the trophic spectrum (Altenbach et al., 2000). Experience from the high-latitude sites tells us that DWAF begin to disappear when productivity reaches values that are too high, or when sediments become dominated by biosiliceous components. In the latter case, the DWAF appear to be ecologically excluded.


Back on top | Abyssal | "Flysch"-Type | Scaglia-Type | Slope Marl | Distribution of Biofacies