Ugle Formation (Ugleformasjonen)
Name:
From the Norwegian name for an owl (several species are found in northern Norway - among them the Hawk Owl Surnia ulula).
Definition:
The formation is defined by the interval from 2624 m to 2221 m (log depth) in well 7120/2-1 on the Loppa High (Fig. 20; Table 1). The base is characterised by an abrupt log break below a 54 m thick siltstone-dominated unit and overlies a conglomeratic unit with coal fragments. The boundary is marked by uniformly higher gamma log readings and a decrease in density and interval transit time. The upper part of the formation is cored and the top corresponds to 2225.7 m in the core (Fig. 21).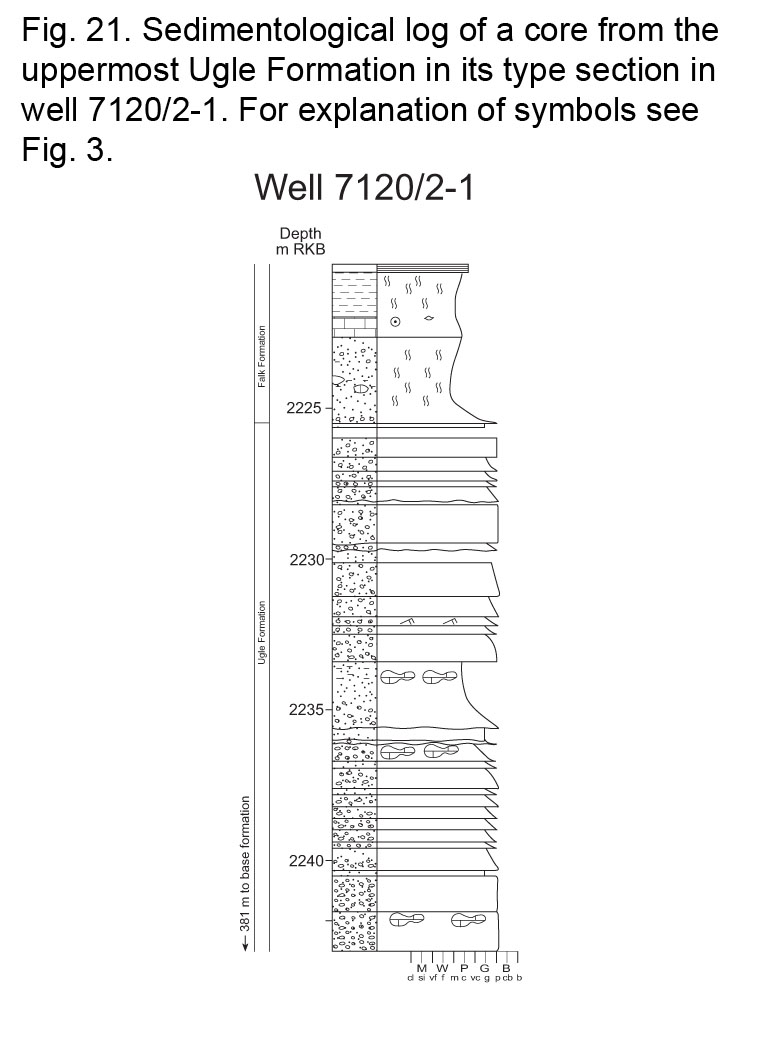 Reference sections:
Reference sections are provided by the intervals from TD at 2202 m to 2118 m in well 7120/12-4 on the western Finnmark Platform's northern margins towards the Hammerfest Basin and from TD at 509 m to 498.6 m in core 7029/03-U-02 on the southeastern Finnmark Platform (Fig. 22, Fig. 23; Table 1). The base of the formation was not penetrated in these wells but seismic data suggest that in the area around 7029/03-U-02 this probably correlates to a regional angular unconformity approximately 50 m below TD (Bugge et al. 1995).
Fig. 22. Well logs of the Gipsdal Group in 7120/12-4 from the Finnmark Platform.
For explanation of symbols see Fig. 3.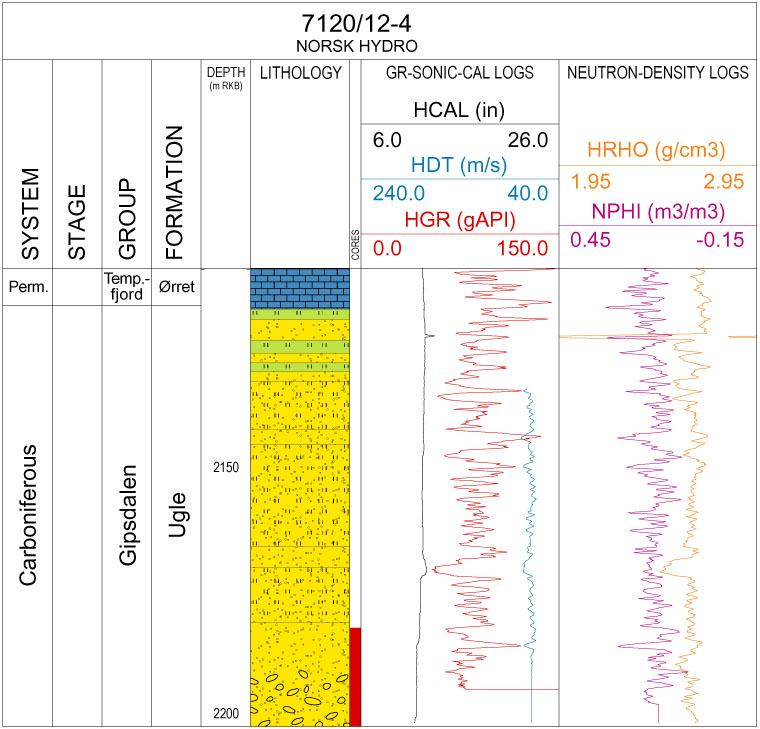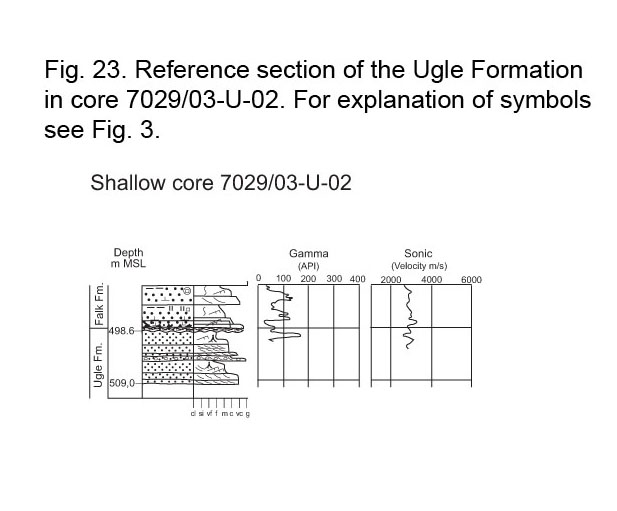 Thickness:
The formation is 403 m thick in the type well 7120/2-1, at least 84 m thick in 7120/12-4 and, according to Bugge et al. (1995), approximately 60 m thick in the area around 7029/03-U-02. The formation was not developed in wells 7226/11-1, 7128/6-1, 7128/4-1 and 7120/1-1, while wells 7124/3-1, 7121/1-1, 7228/9-1S and 7229/11-1 reached TD higher in the Gipsdalen Group.
Lithology:
The formation is characterised by reddish-brown to brown conglomerates, coarse-grained sandstones and minor siltstones. In well 7120/2-1, the formation is dominated by approximately 10 metre thick fining-upward units of reddish brown coloured conglomerate to siltstone with light grey calcite nodules at the top (Fig. 20). The pebbles are dominated by variously coloured volcanoclastic material with red- and grey coloured feldspar crystals. The core from 7029/03-U-02 consists of alternating fining-upward coarse pebbly sandstones and reddish brown and greyish green mottled siltstones (Fig. 23). Sediments are more fine-grained in well 7120/12-4 and there mainly consist of reddish brown to brown mottled sandy siltstones with frequent light grey to greyish green calcareous nodules (Fig. 22).
Lateral extent and variation:
The Ugle Formation was deposited in isolated half-grabens which developed during mid- Carboniferous rifting. These features appear to be widespread across the platform areas of the Norwegian Barents Sea (c.f. Worsley et al. 2001: fig. 11B) and correlative units to this formation may well be thickly developed in deeper basinal areas. The formation is only locally developed on the Finnmark Platform and was not deposited in well 7126/11-1 on the southern margin of the Bjarmeland Platform.
Age:
Dating of the formation is difficult because of its lack of fossils. However, a diverse palynomorph assemblage of late Serpukhovian to early Bashkirian age (SO-KV Zone) has been reported recently in well 7120/2-1 in the interval around 2420 m (Lindström, in press). The youngest age of the formation is suggested by the basal part of the overlying Falk Formation, dated as late Bashkirian in well 7120/2-1 (Stemmerik et al. 1998).
Depositional environments:
An overall arid to semi-arid terrestrial environment of deposition is indicated by the dominance of red-coloured sediments, widespread caliche soils and the absence of marine fossils. Conglomerates were probably deposited in the proximal parts of alluvial fans building out from active faults. In 7120/2-1, massflow deposits rich in volcanoclastic pebbles dominate the conglomerates, indicating volcanic activity on or near the Loppa High during mid-Carboniferous times. These coarse facies interfinger down-stream with more fine-grained flood-plain sandstones and overbank fines; fluvial channel-fill deposits are rare.
Correlation:
Alluvial red-bed sediments were deposited in numerous half-grabens throughout the Arctic during the mid-Carboniferous and are assigned to a vast number of lithostratigraphic units spanning over differing segments of mid-Carboniferous time, but all reflecting ongoing syndepositional rifting. The Ugle Formation correlates to red-beds of the LandnГёrdingsvika Formation on BjГёrnГёya (Fig. 6, see also Gjelberg 1981; Gjelberg & Steel 1981, 1983; Worsley et al. 2001), perhaps to the lowermost Hyrnefjellet Formation in the Inner Hornsund Trough of southern Spitsbergen, the Petrellskaret Formation in Bellsund, the BrГёggertinden Formation on BrГёggerhalvГёya and the Hultberget and Ebbadalen formations in the Billefjorden Trough. Holliday & Cutbill (1972) and Johannessen & Steel (1992) have described the development of the Billefjorden Trough in detail (see also Dallmann et al. 1999 for full references).