Skrubbe Member (Skrubbeleddet)
updated to follow: Stratigraphic Guide to the Cromer Knoll, Shetland and Chalk Groups of the North Sea and Norwegian Sea. Felix M. Gradstein & Colin C. Waters (editors), Mike Charnock, Dirk Munsterman, Michelle Hollerbach, Harald Brunstad, Øyvind Hammer & Luis Vergara (contributors). Newsletter on Stratigraphy, vol 49/1 pp71-280, 2016
Shetland Group, Blålange Formation
Introduction
The Skrubbe Member is a new member of Blålange Formation (new herein) and is a interval of lower Turonian sandstones found locally in the Vestfjorden Basin.
Name
English/ Norwegian and any previous names: Described informally as the 'Lange sandstone 1' by the operator Statoil and indicated as a unit with no formal name in the type well 6610/3-1 Ron the NPD fact pages.

Derivatio nominis: The name Skrubbe is Norwegian for the flounder fish species Platichthys flesus. This flatfish is usually found living on muddy bottoms in shallow depths of 0-75m along the whole of the Norwegian coastline and in the fjords.
Lithology
The Skrubbe Member consists of interbedded sandstones and claystones with occasional thin stringers of limestone and dolomitic limestone especially developed in the lower part.

The sandstones are light to medium dark grey, with clear to translucent grains, fine to coarse, occasionally very coarse, poor to moderately sorted, sub-angular to sub-rounded, friable to moderately hard, calcareous cement or occasionally abundant argillaceous matrix, micaceous, glauconitic, carbonaceous in part, with poor to no visible porosity, occasionally grading to sandy claystone.

The claystones are medium dark grey to olive black, blocky to sub-fissile, moderately hard, silty or sandy in parts, micro-micaceous to very micaceous in parts, occasional micro-pyrite, trace carbonaceous material, predominantly slightly to non calcareous.

Occasional thin stringers of limestone or dolomitic limestone throughout this unit are greyish white to light brown, soft to hard, blocky, micro-crystalline, argillaceous, occasionally glauconitic, sandy and silty in parts grading to calcareous sandstone.
Thickness
The Skrubbe Member is less than 170 m thickness.
Geographical distribution
The Skrubbe Member is locally developed in the Vestfjorden Basin.
Sample depository
Palynological preparations (organic matter depository)
Type well 6610/3-1 R: 12 slides including 9 sidewall core samples deposited at the NPD covering the interval 2890m swc - 3040m swc (Statoil and RRI preparations).
Core photographs
Type well 6610/3-1 R: no cores were taken in this member.
Type well
Well name: 6610/3-1 R
Location
WGS84 coordinates: N 66°55'29.70, E 10°54'06.28

UTM coordinates: 7424470.29 N 583170.04 E

UTM zone: 32

Drilling operator name: Den norske stats oljeselskap a.s

Completion date: 11.12.1993

Status: suspended, re-entered later.

Interval of type section (m) & thickness in type well (m): 3047m - 2884m and 163m thickness.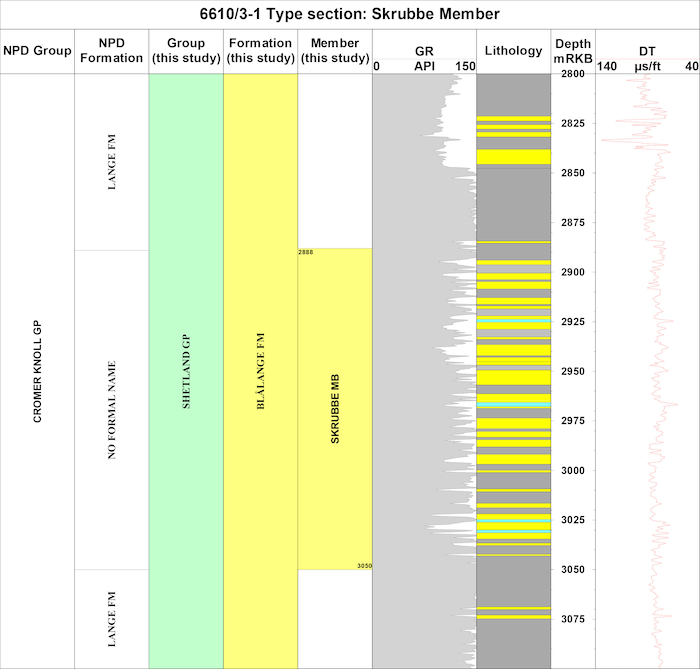 Logs of the type well 6610/3-1 R (click to enlarge)
Reference wells
Not designated
Lower Boundary
The base of the Skrubbe Member is defined by a decrease in gamma ray log response and an increase in resistivity values in response to the up-section development of sandstones. There is an associated weak decrease in interval transit times but overall, both the gamma ray and sonic log values are more irregular than the underlying mudstones.
Well log characteristics [Figure]
The Skrubbe Member is characterised by a serrate profile on gamma ray logs in response to the sandstone - claystone interbedded nature of the unit. Sandstone beds are more frequent in the upper part of the member although these never exhibit large scale, blocky log profiles. Some sandstones show gradational (fining upward) profiles with the overlying, thinner mudstone interbeds.
Type seismic section
Location: ST 9104-437 and SP. 335 (well 6610/3-1R)

Section
Biostratigraphy
The Skrubbe Member is developed between the dinocyst events LCO Cyclonephelium membraniphorum, LO Cribroperidinium edwardsii (early Turonian) and the LO (few) Litosphaeridium siphoniphorum (Cenomanian). The Turonian restricted FO Heterosphaeridium difficile occurs in swc in the upper part of this member. Reworking of Albian - Cenomanian dinocysts is probably the result of reworking of the underlying sediments from up-slope locations.

Small planktonic foraminifera are frequent in the underlying Cenomanian claystones, mainly Hedbergella delrioensis and H. planispira.
Age
Late Cretaceous, early Turonian.
Correlation
The Skrubbe Member is developed in the lowermost part of sequence K50 of Færseth and Lien (2002). In the type well 6610/3-1 R the early Turonian Skrubbe Member lies between the Sandflyndre Member (Cenomanian) and Lysing Member (Coniacian).
Depositional environment
There are limited available data on the depositional setting of this member and cores are lacking. The sandstones are considered to be derived by gravity flow processes into a relatively deep marine, slope or local sub-basinal paleoenvironment. An upper bathyal, slope setting is indicated by the prevalence of low diversity, deep water agglutinated foraminifera (DWAF) in the microfaunas of the adjacent mudstones. The general lack of calcareous taxa suggests a reducing sub-oxic bottom environment. The base of the Skrubbe Member in the 6610/3-1R well is considered to be a minor stratigraphic break, and probably the result of erosion of the underlying sediments during deposition.
References
Færseth and Lien (2002)